Digital office service for my company
Individual corporate support completely digitalized
What is digital office service ?
"Digital officeservice" means all office activities that can be carried out remotely or location-independently for companies. The "digital employee" does not have to be physically present in the office. This form of digital operation saves costs and offers complete flexibility!
My company on the pulse of time
Digitalization is embedded in all areas of our modern day life
Whether it was the commercialization of the Internet in 1989 or the sale of the first smartphone in 1995, digitization is progressing steadily.
Social networks such as Facebook, Twitter, Instagram and Co., which are used both privately and commercially, now serve as a digital communication channel.
Online banking or online payment systems such as PayPal are commonplace today. Online shipping via AMAZON replaces long walks on shopping streets. Cryptocurrencies like Bitcoin are on the rise.
For many companies, using digital staff, e-workers or virtual assistants etc. is the answer of digitization in the workplace!
Benefits of a digital office service
Maximum support for my company through digital officeservice, flexible and individual.
What do others say about digitalization?
Innovation as a modern business solution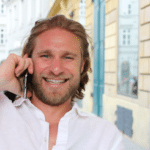 René Angelo Blaschek
CEO
blaredigutalbusiness.com
"Digitalization has been going on for a long time and is always moving forward. Innovation is the constant companion of our society. The world of work is definitely changing. New information and communication technologies open up unprecedented opportunities for entrepreneurs as well as for employees! The use of digital employees helps companies reduce costs while optimizing business processes. Ultimately, that's what a business owner wants. I think openness about digitization is one of the first steps towards the future! "
Kimberly Blaschek
Assistant of Management
blaredigutalbusiness.com
"Personally, I am convinced that digitization brings benefits that can not be ignored, which is why more and more entrepreneurs are looking to deploy digital employees who can be integrated into multiple business areas at the same time. I think it is important to have the willingness to question old ways of thinking and a little courage to be carried away by the new digital revolution! "
Dr. Harald Mahrer
State Secretary in the Federal Ministry of Science, Research and Economy
"We want to actively shape digital progress for citizens, businesses and society. Austria should remain economically successful and as many people as possible should be able to participate in the prosperity. Education, research and innovation as well as an efficient digital infrastructure are the prerequisites for Austria's way into the digital age. We have no time to lose. Let's go together! "
How i get digital office service?
The integration of digital office services into your own company is simple, fast and flexible!
Why not digitalize your company too!
Keep up with our modern times and enjoy the benefits of digitization for your business